Heritage footpath projects are full of traps for the unwary. Footpaths tend to slice across time, so you need a huge range of historical expertise. Then you need to be able to summarise all that knowledge in a few words for people who just want to walk. Designing the actual route is a balancing act – you need plenty of interest but it has to work as a walk. There's no point in including your favourite site if there is no public access, or if you can only get to it along a mile of busy main road.
Having said all that, trails with a historical interest are a great way of introducing people to the history of an area, and all the research suggests that they are also a good way of encouraging people to take gentle exercise.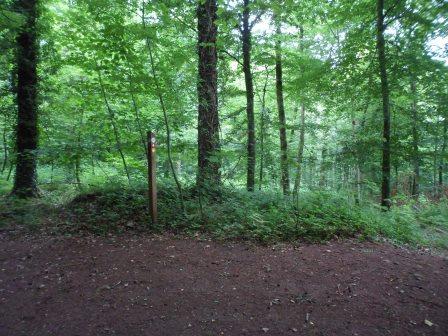 Cardiff City Council has recently been putting some trails in the woods above my house. The woods round Castell Coch do get quite busy and have a lot of special interest stuff. I walk my neighbour's dog up there most days (the famous Cara the pilgrim dog – seen here  http://www.bbc.co.uk/news/entertainment-arts-18532279 enlivening  this toe-curlingly embarrassing sequence of fake pilgrims at Caerphilly).
While they were filming Merlin we regularly met gangs of men dressed in chain mail, usually smoking rollups and drinking coffee out of styrofoam cups.  The actual castle sequences in Merlin were mainly filmed at Pierrefonds, north-east of Paris. Location-spotter hobbyists spent a lot of time trying to identify locations for the countryside sequences in the area round Pierrefonds but in fact most of them were filmed near Castell Coch. The woods have also been used for Sherlock Holmes, Dr. Who and Torchwood, and most recently the woods and the castle featured in Da Vinci's Demons.
All this has of course become part of the heritage of the area, but there is more conventional history as well. Cardiff Walking for Health and Outdoor Cardiff have homed in on this with some themed trails on the history of iron-making in the area and the Victorian rebuilding of the castle.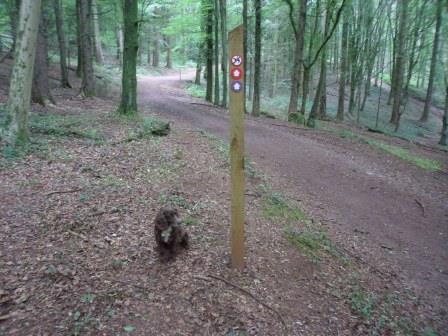 Somehow they got in touch with me and asked me to advise – which since I know very little about industrial archaeology, and even less about the Victorians, was a bit of a challenge. I did manage, though, to point them in the direction of the early industrial history of the area – which since it involved a poet, a love story and the most spectacular of the iron mines in the woods, seems to have suited their needs.
It all goes back to Sir Henry Sidney, father of the poet Sir Philip. The family came from Penshurst in the Weald of Kent. Sir Henry was one of Edward VI's childhood companions, a courtier of Mary Tudor and Elizabeth I, and an early pioneer of the iron industry. He was involved in introducing the new smelting methods of the blast furnace, using water power to drive a bellows which enabled very high temperatures in the furnace. Iron ore, charcoal and limestone were fed in at the top of the furnace and molten metal was tapped off at the bottom. Sir Henry's problem was that this enabled you to smelt much larger quantities of iron – so you needed a lot more charcoal. Wood is in theory a renewable resource, but he was felling trees in Kent faster than they could regenerate. In 1559 he became Lord President of the Council in the Marches of Wales, and it was in Wales that he found all the resources he needed. In the lower Taff valley there were steep hills with fast-flowing streams for water power, miles and miles of unused woodland, limestone and iron ore in plenty. Better still, the iron ore was haematite – not narrow veins of ironstone, difficult to extract, but huge post-volcanic globules which could easily be quarried. The hematite mines under the Garth mountain carved out huge chambers like cathedrals. In the woods above Tongwynlais the ore was nearer the surface and they could dig down for it, creating caves like the 'Three Bears' Cave' and the Blue Pool.
This is where the love story comes in. To establish his family as landowners in south Wales, Sir Henry married his younger son Robert to a local heiress, Barbara Gamage. Barbara's  father John Gamage was lord of Coety, near Bridgend, and she was his only child. When John died in 1584, Barbara was 25, which was very old for a woman of her class to be unmarried. She had a number of suitors but Sir Henry had more clout than any of them, and 'persuaded' her guardians to marry her to Robert. It was an unpromising beginning to the relationship, but surprisingly the ill-matched couple fell deeply in love. They had thirteen children – there's a lovely painting of her with six of them at http://en.wikipedia.org/wiki/File:Gheeraerts_Barbara_Gamage_with_Six_Children.jpg . Her local influence provided Robert with the county seat for Glamorgan in the parliaments of 1584-5 and 1593, and her estates helped to restore the Sidneys' over-stretched finances. When Sir Philip died at Zutphen, Robert inherited the family estates. He and Barbara never came back to Wales, but their industrial interests in the woods above Cardiff were an important part of their wealth.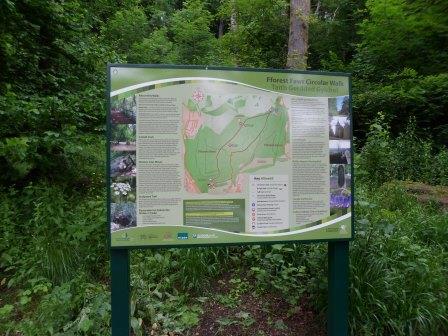 Explaining all that on an interpretation panel is a huge challenge, but Cardiff 's footpaths team have done their best. You can access the walks leaflets at http://www.cardiff.gov.uk/content.asp?nav=2868,4407,5442,6305&parent_directory_id=2865&id=13121 – click on Fforest Fawr.
There was a bit of a hiccup with the waymarking. The wording on the arrows for the Sir Henry Trail was clearly borrowed from the leaflet, so it read 'Sir Henry Trail … Mae Llwybr Syr Henri' . The problem is that in Welsh the verb comes at the beginning of the sentence, so what you have here is 'Sir Henry Trail …  The Sir Henry Trail is' . I didn't notice it, but my daughter speaks fluent Welsh and it niggled her no end. I mentioned it a couple of times when I saw the footpaths people in the woods, and to my daughter's delight they have now corrected it.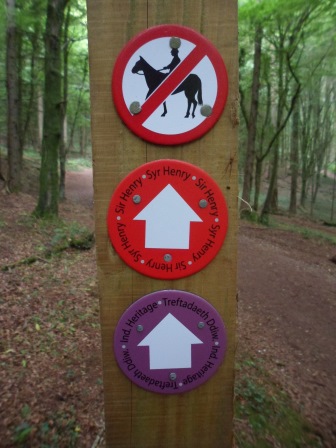 The next footpath project is a trail round the early medieval stones in Merthyr Mawr and Laleston.  One day I may even get back to my own Cistercian Way project, a round-Wales trail which keeps getting interrupted by the day job. Perhaps when I retire …