Well, the tortoise and hare thing didn't work, but we had fun anyway. About 2,000 women running, jogging and walking 5 km around the park in Cwmbran to raise money to fight cancer.
We like the Cwmbran Race for Life because it's nice and relaxed, we can miss the pre-match warm-up and the silly young men in tutus, and we can run with Cara the pilgrim dog.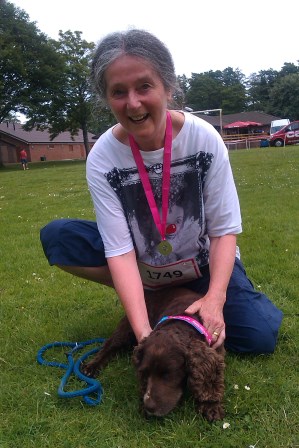 In previous years I've been the one who wanted to keep running and my daughter got out of puff. This year she has been training so we ran for 2 km, walked and ran a bit, then she said she wanted to run so off she went. But I made it back only a minute after her – 34 mins to her 33. Cara would probably have done it in 15 mins, and she's older than me in doggy years.
The Race for Life gives you the opportunity to run to celebrate someone who has survived cancer, or in memory of someone who has died. My daughter ran this year 'for boobs' – as well as working for a public health charity, Ash Wales, she has this year been a student volunteer co-ordinator for CoppaFeel. This is a charity which encourages young women to look after their breasts and teaches them how to check for signs of cancer.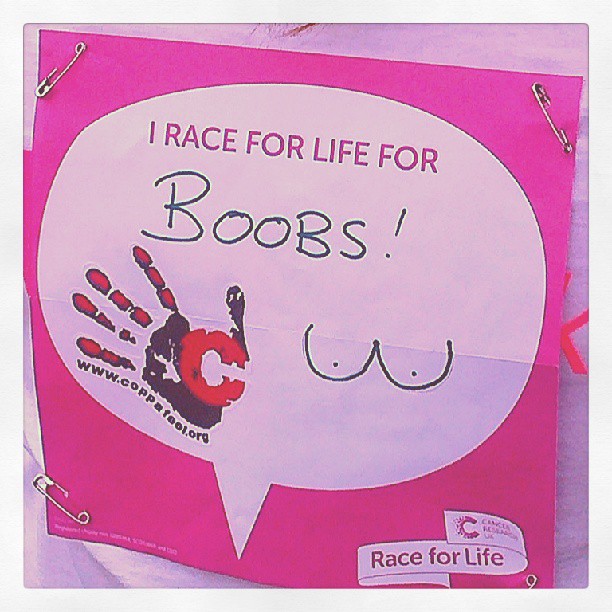 I ran in memory of my old friend Paul Courtney, the archaeologist, who died in May. Paul was one of the cleverest men I know, a leading expert on medieval archaeology and the theory of material culture. In spite of all this, and a publication record that most of us can only envy, he never had a 'proper job' – he kept going on badly-paid freelance contracts and occasional media work. Apparently this was because as a young man he was heavily involved with CND and the Young Communists – and when he was newly qualified and looking for work in the 1980s he was clearly 'not one of us'. Self-censorship by the academic establishment goes back that far – and it was their loss.
On the way home I started wondering whether Race for Life had been about for long enough to qualify as 'intangible heritage'. Intangible heritage is things like events and customs, rather than places and objects. In Wales, it could mean the Eisteddfod, the Mari Lwyd or the rugby internationals. Elsewhere it includes things like Mardi Gras, the Mexican Day of the Dead, Up Helly A and the Venetian carnival. My colleague David Howell, who tweets as @Kasuuta, runs an online newspaper on heritage issues and another specifically on intangible heritage – http://paper.li/Kasuutta/1347263108 and http://paper.li/Kasuutta/1347264840 for examples.
It's a long time since I've done any serious running. My knees got more and more creaky. The real crisis came when I knelt down in front of a class to fix the computer and couldn't get up again. It took the 2 strongest lads in the class to put me back on my feet, and my colleagues made silly remarks about how I'd only done it to get (insert name of cute student here) to give me a cuddle. So that was the end of running. Instead I go hill walking but somehow that uses different muscles.
As does crawling round church floors looking for medieval tombstones. But the hill walking is probably better training for pilgrimages.