(photo (c) Snidge, from https://upload.wikimedia.org/wikipedia/commons/7/75/Juniper_Hill_-_geograph.org.uk_-_344120.jpg)
Here are two inventories of the contents of a little public house on the Oxfordshire-Northamptonshire border. The first, dated 1882, is a probate inventory, a very detailed valuation of the contents of the pub and dwelling, made after the death of Thomas Harris, who first established the pub. (This is a scan from a photocopy so not perfect.)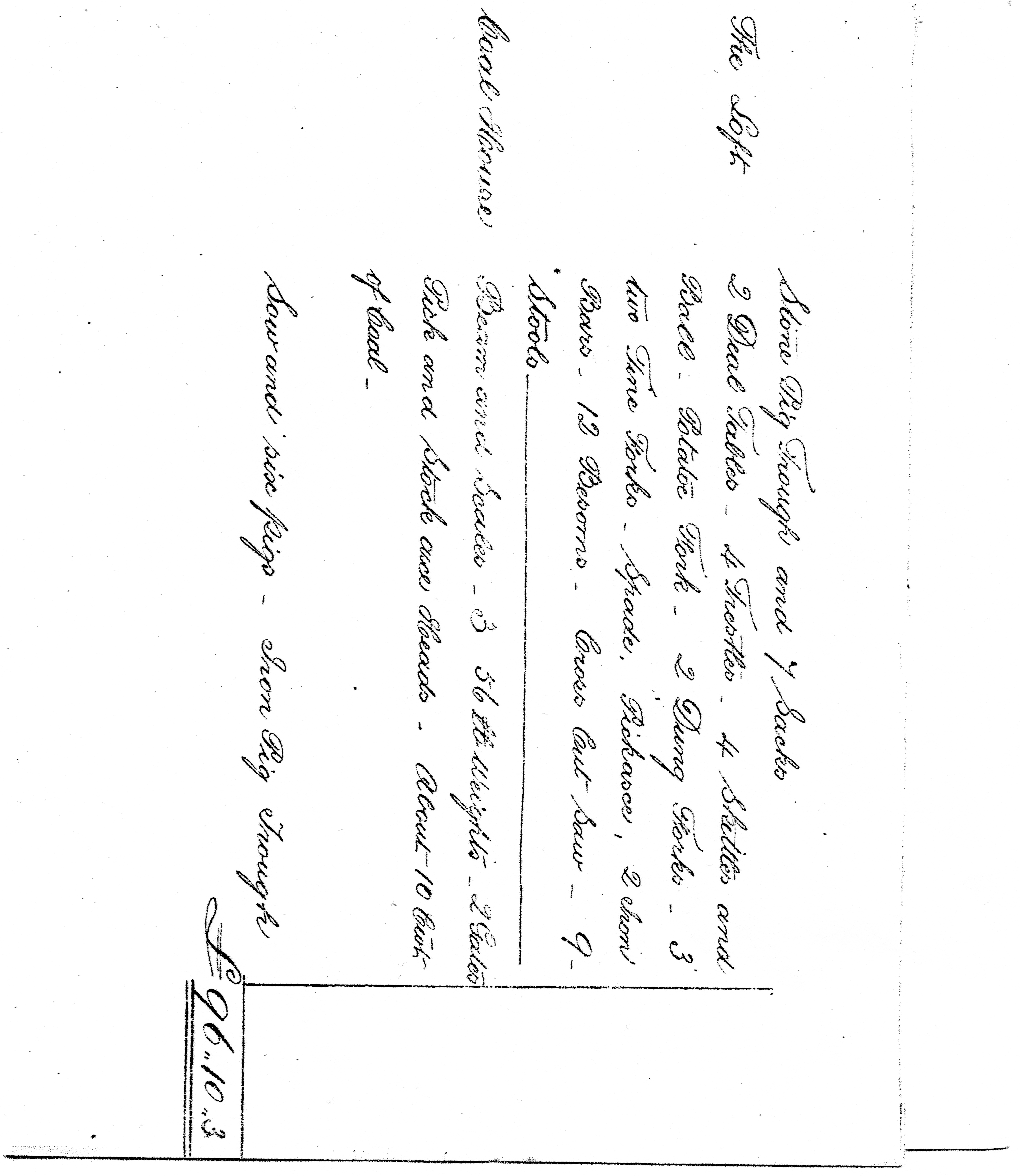 The pub was then taken on by a Mr. K. Wood, and this is a less detailed inventory of the contents which he sold in 1907 to E. Hewlett.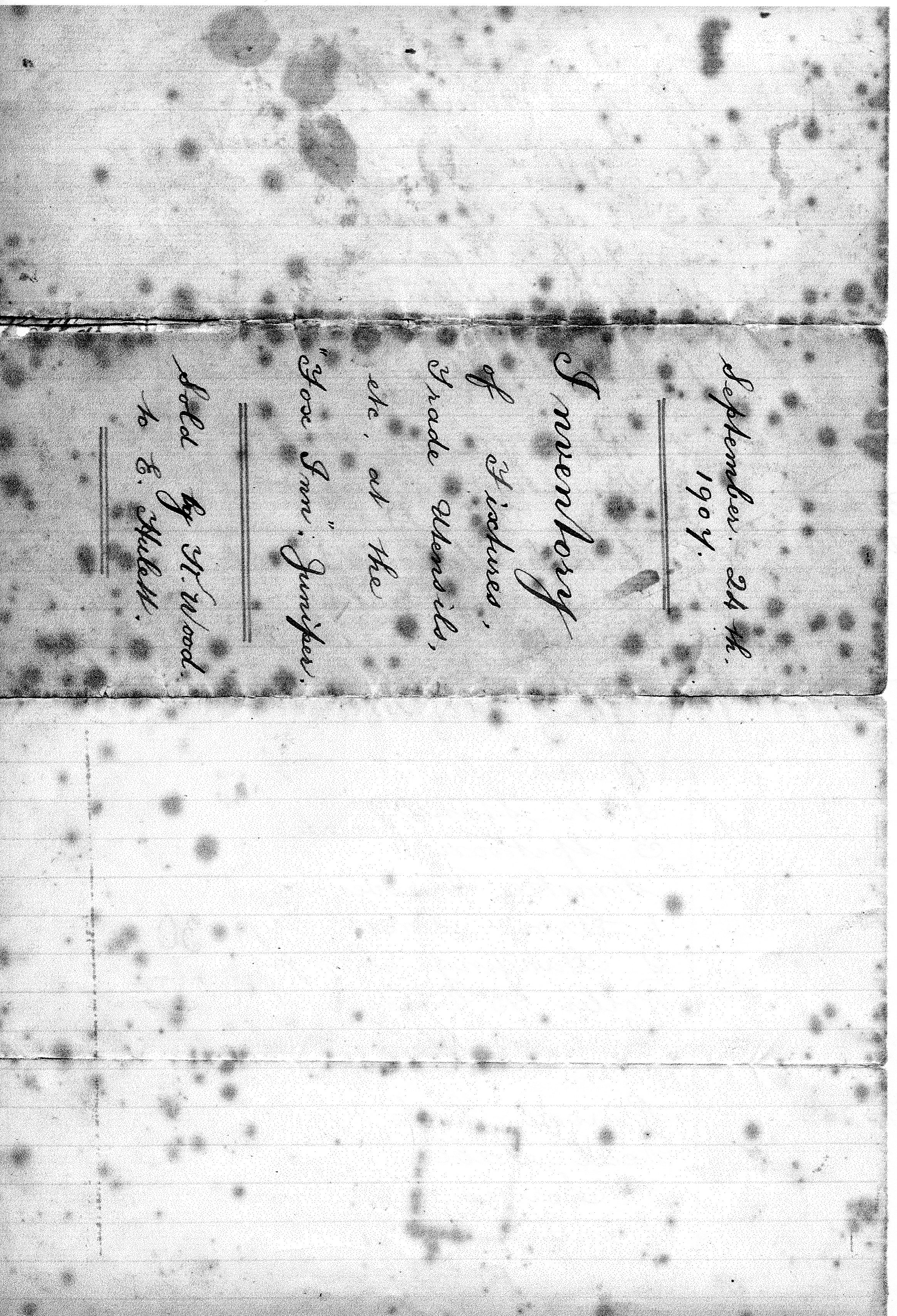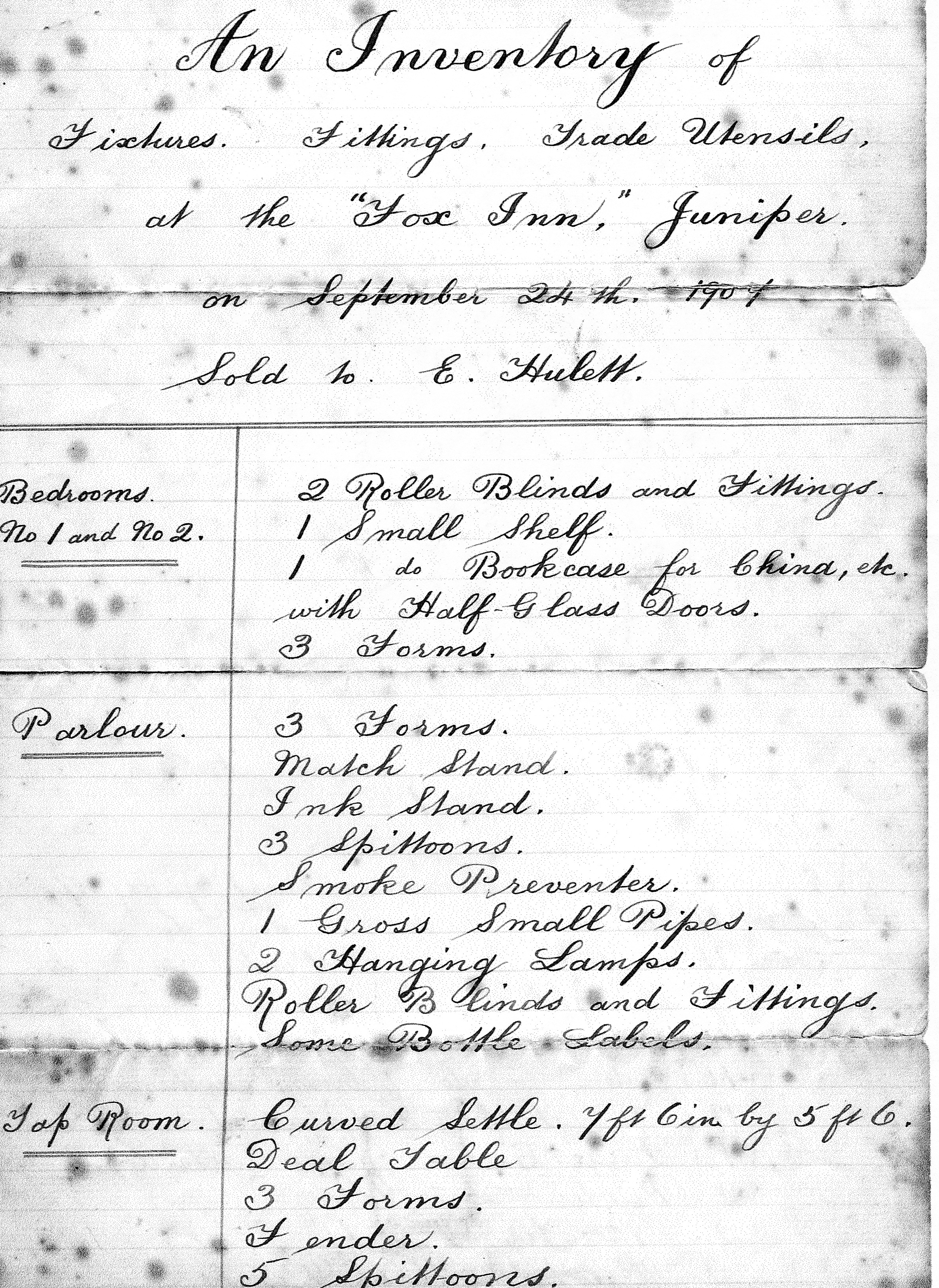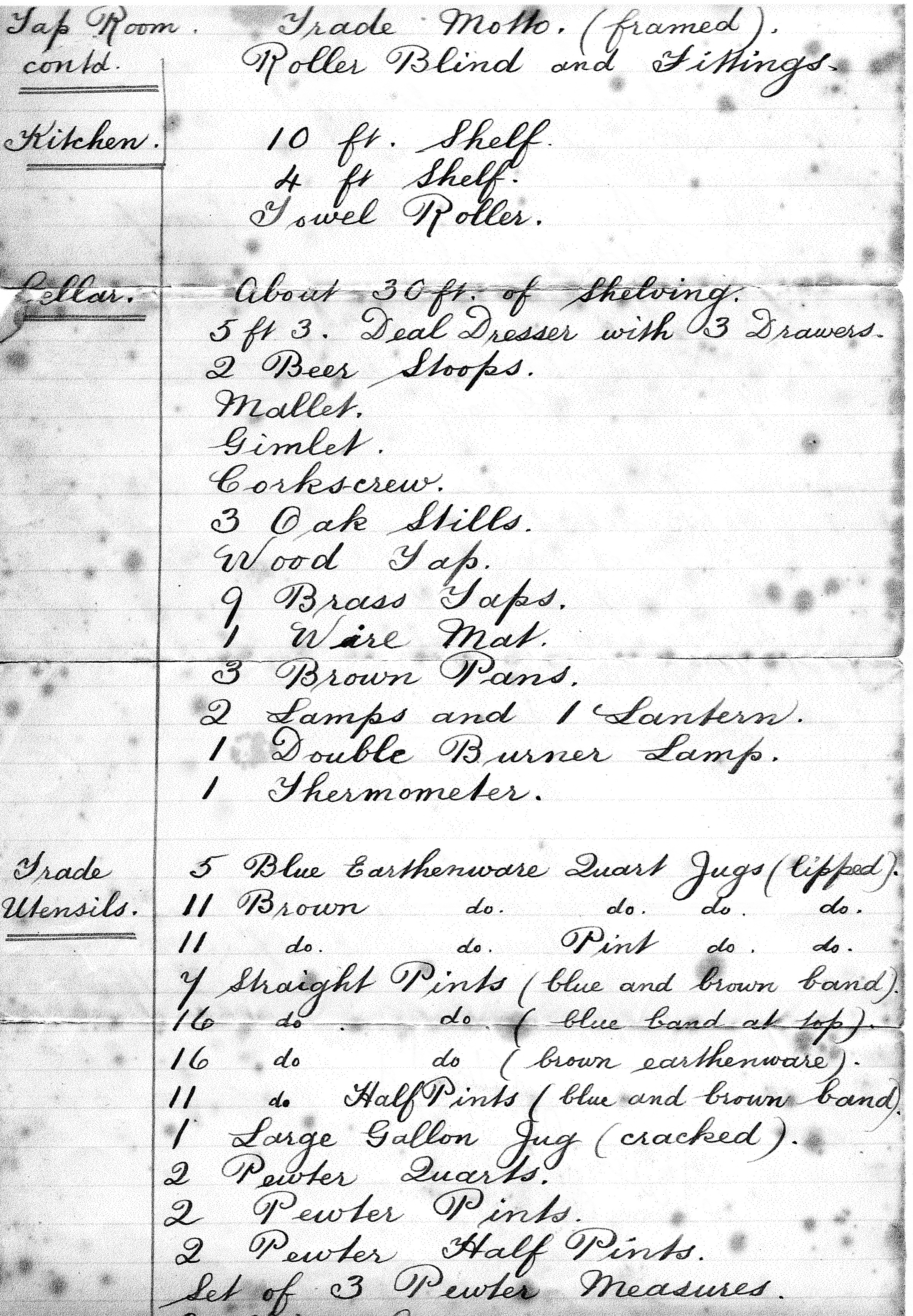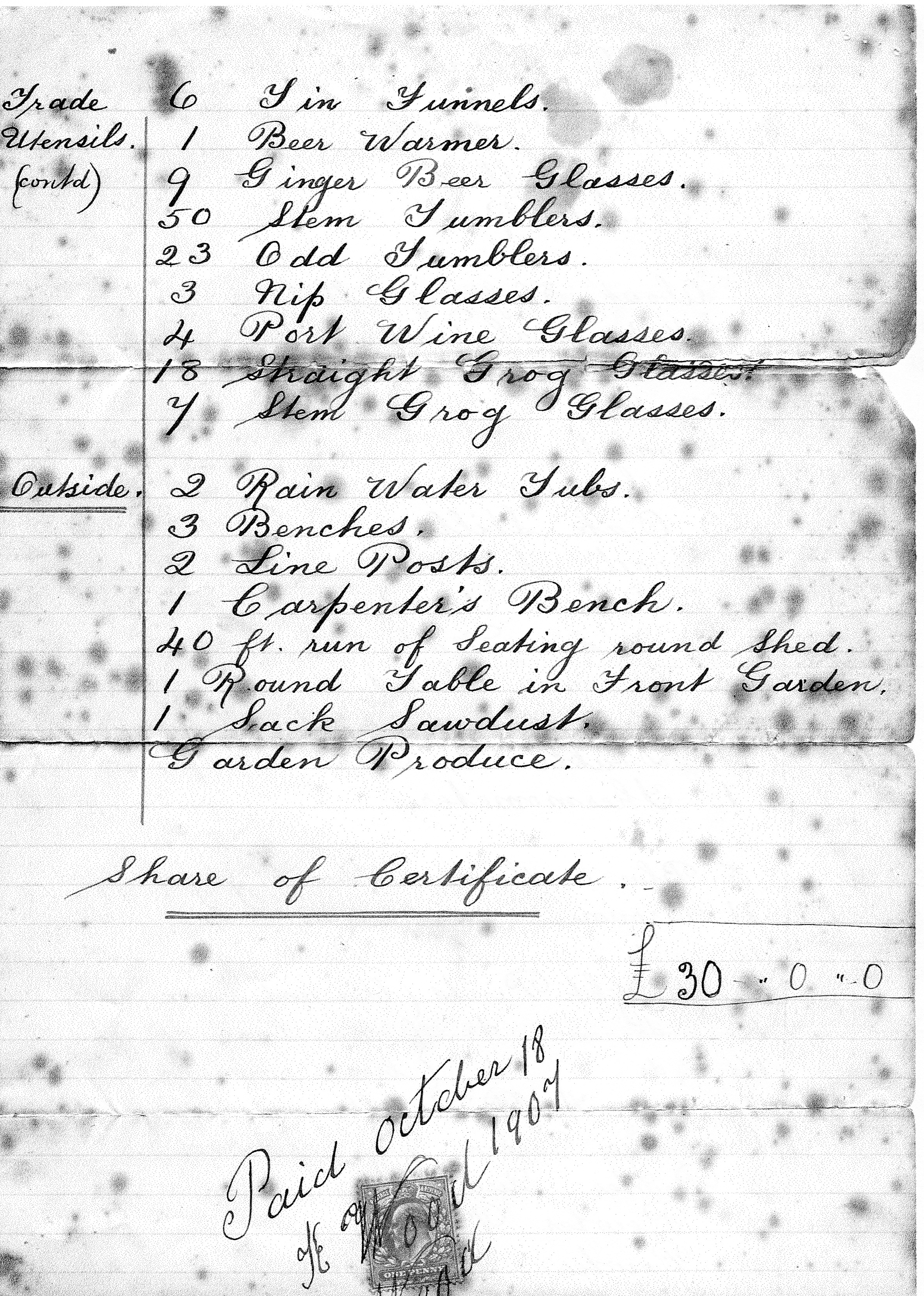 These documents are interesting in themselves as an insight into life in a small farming village. Most of the trade would have been beer for farm workers. However, the 1882 inventory includes, in the tap room, champagne glasses, a tea service and plates for meals. Mr. Harris was also running a shop, but the shop stock seems to have been run down, possibly during his last illness or after his death. There was no shop by 1907; instead, the pub now boasted a parlour as well as the tap room. The list of utensils included nip glasses and port glasses, presumably for the parlour customers, as well as ginger beer glasses – were these for children, or for ladies on a hot day?
But the other interesting thing about these documents is that the Fox Inn has a place in one of the best-loved accounts of village life in late Victorian and Edwardian England. Juniper Hill is the real-life original of Lark Rise, of the 'Lark Rise to Candleford' series of autobiographical novels by Flora Thompson. In those novels, the Fox is renamed the Waggon and Horses, and has a whole chapter in the book. 'There the adult male population gathered every evening, to sip its half-pints, drop by drop, to make them last, and to discuss local events, wrangle over politics or farming methods, or to sing a few songs "to oblige" '. Flora Thompson also mentions the shop, selling candles, treacle and cheese.
These documents were among the papers of my oldest cousin David, who died last winter. He was much older than me, really of the same generation as my mother. David's mother was born in 1900, the oldest of the family. My mother was the youngest, born in 1915, and David was born in 1926. Times were hard then, and David and his mother spent a lot of their time at my grandparents' farm, where there was at least enough food to eat.
After military service, David took a degree in Agriculture. He thought for a while of moving overseas, and his papers included a letter offering him a post as a tea planting assistant with the Darjeeling Company.
In spite of the tempting offer they made him – a bungalow with three servants and the possibility of promoton to the dizzy heights of Assistant Manager with six servants – he was eventually persuaded to stay in England. He became a Rural Science teacher. He married Jean, grand-daughter of the Mr. Hewlett who took over the Fox in 1907. It had been run by her family ever since, and she and David ran it together while he taught and they brought up their five children. Eventually, though, they had to retire. No-one was prepared to take the pub over as a going concern and it is now a private house.