Gerald Gabb has sent me the following information about his magnum opus – the completion of his 3-volume history of Swansea.

The 1840 view above by Alexander Rolfe (Glynn Vivian Art Gallery) decorates the slipcase of my new book, "Swansea the Riverside Town", which has been 12 years in the making.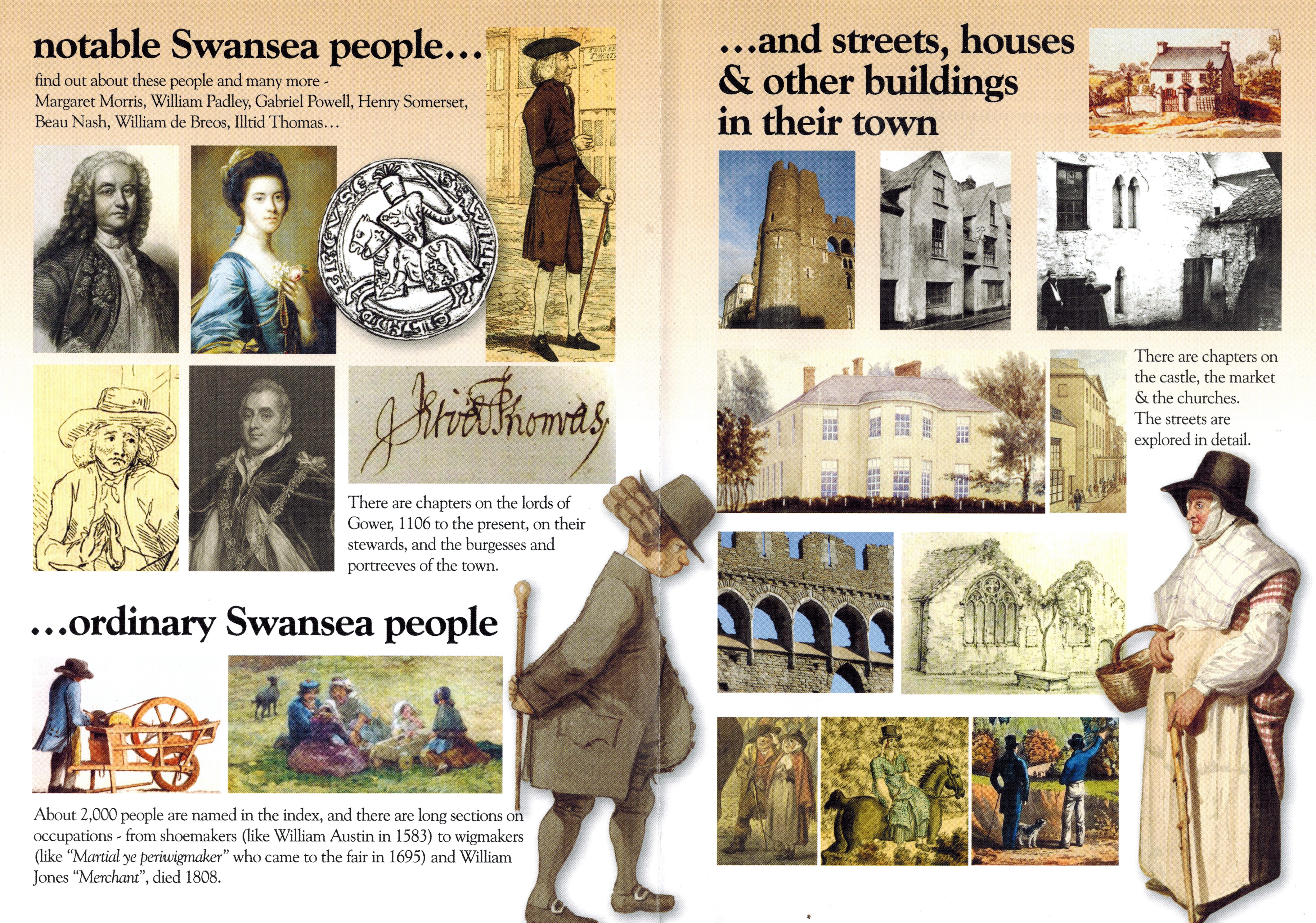 It will be launched on Saturday 18th and Sunday 19th May between 10 and 4.00 at Swansea Museum – full details here.
If that date does not suit, there are –
Further launches at Sketty, Newton, Bishopston, Reynoldston, Mumbles, the Central Library and in Swansea Market
As well as talks and events in the National Waterfront and Swansea Museum, and at Clydach, Fforestfach, Glynneath, Gowerton, Killay, Llansamlet, Loughor, Morriston, Neath, Penlan, Pontarddulais, St.Thomas and Trallwn, at which the book will be available.
Dates, times and venues are given below – just scroll right down.
It's an expensive book, so anybody coming to have a look at it, or only to hear the talk and have a chat is sincerely welcomed. All talks are planned as being interesting in themselves – they are not just adverts.
You can also get in touch via g.gabb@ntlworld.com or 01792/613262. In that way you can arrange delivery of a copy, or call in to see one at 38 Woodland Avenue, West Cross SA3 5LY.
                                                                                                                       Keep going down !
Or try a shop:     Swansea Museum (open Tues-Sunday, 10-4.30)
Cover to Cover, Newton Rd., Mumbles
Waterstones, Oxford Street, Swansea
Norton Stores (opposite the Beaufort)
or further afield at College Street Books, Ammanford or Seaways Bookshop in Fishguard.
TALKS & EVENTS
Pre-publication talks
Saturday 13th April 2.30 RISW lecture, Swansea Museum
Wednesday 17th April 3.00 SKETTY LIBRARY
Thursday 25th April 2.00 TOWNHILL LIBRARY
Saturday 27th April 11.00 HISTORICAL ASSOCIATION, National Waterfront Museum
Talks & events at which the book MAY be available
Saturday 4th May PENNARD LIBRARY 10.30
Tuesday 7th May OXFAM BOOKSHOP, Castle Street 7 for 7.30
Wednesday 8th May 7.00 OYSTERMOUTH LIBRARY please ring, email or call in for a ticket: 368380  judy.knight@swansea.gov.uk 
Saturday 11th May Local & Family History Fair, NATIONAL WATERFRONT MUSEUM, 10-4.00
with talk at 11.30
Wednesday 15th May PENLAN LIBRARY 10.00
Formal Launch
Saturday/Sunday 18th/19th May  SWANSEA MUSEUM, 10-4.00 both days
On Saturday, Prys Morgan (11.30) & Peter Stead (2.30) have kindly agreed to speak.
The author will give presentations at 11.00
on Sunday. The book will be available throughout both days.
Follow-up launch sessions
Thursday 30th May 10.30-12.30 ST.PAUL'S PARISH CENTRE, Delabeche Rd, Sketty,
                                                                         talk at 11.00 (ample parking)
Saturday 1st June 9.30-4.00 SWANSEA MARKET table in the centre, chat but no lecture
Saturday 8th June 10-1.00 NEWTON VILLAGE HALL, by St.Peter's Church, talk at 11.00
Thursday 13th June 7.00 Tabernacle Chapel Hall, Chapel Street, Mumbles – a COVER to COVER  BOOKSHOP event – please book: sales@cover-to-cover.co.uk, 01792/366363 or at the shop
Saturday 29th June  ST TEILO'S PARISH HALL, Bishopston 10.30-12.30 talk at 11.00
Saturday 20th July 2.00 SWANSEA CENTRAL LIBRARY Discovery Room, upper floor
Friday 26th July Reynoldston Village Hall 6.45-8.30 talk at 7.20
Saturday 27th July, 10.00: Swansea History walk led by Gerald Gabb, beginning and ending at Swansea Museum – roughly 2 hours, level throughout. Tea & coffee available at the museum on return. For further details contact John Steevens, john@steevens.co.uk or 01792/643791 ALL WELCOME (Royal Institution of South Wales event)
Other talks & events where the book will be available
Monday 3rd June FFORESTFACH LIBRARY 10.30
Wednesday 5th June 2.00 circular Swansea History walk led by Gerald Gabb, – about 2 hours, level, meet at Swansea Museum (a Gower Walking Festival event, places limited, book at info@gowerwalkingfestival.uk or on 07340/672963)
Friday 7th June U3A Family History group 10-12  members only
Tuesday 11th June 10-12.00  Swansea Eastside Historical Society,
Community Room, St.Thomas Community Primary School
Tuesday 11th June 7.00 GOWERTON LIBRARY
Friday 28th June 2.00  KILLAY LIBRARY
Wednesday 3rd July 2.30 LLANSAMLET LIBRARY
Saturday 6th July 2.00-3.00 PONTARDDULAIS LIBRARY
Friday 20th September 7.00 CLYDACH HISTORICAL SOCIETY, Clydach Community Centre
Saturday 28th September RISW/HA History Day in the museums 10-4.00
Friday 11th October 2.30 LLANSAMLET HISTORICAL SOCIETY Trallwn Community Centre
Thursday 17th October 8.00 OYSTERMOUTH HISTORICAL ASSOCIATION Ostreme Centre
Saturday October 26th RISW Local History Bookfair, Swansea Museum 10-4.00
Wednesday 6th November 7.00 GLYNNEATH HISTORICAL SOCIETY Glynneath Training Centre
Thursday 7th November 2.30 LLWCHWR HISTORICAL SOCIETY the Institute, Lime St., Gorseinon
Tuesday 12th November 7.30  KENFIG SOCIETY Pyle Parish Hall
Monday 18th November 7.00 NEATH ANTIQUARIAN SOCIETY the Old Town Hall
Tuesday 3rd December 2.00 MORRISTON LIBRARY
…….and probably a summer talk at the Glynn Vivian, details to follow
SHOPS  try Swansea Museum, open 10-4.30 Tuesday to Sunday
or Cover to Cover, Newton Road Mumbles, and Waterstones in Oxford Street all of whom have been very supportive. Norton Stores (formerly Ian Boyd's) will have copies, as will College Street Books, Ammanford and Seaways Bookshop in Fishguard. Waterstones in Oxford Street and the National Waterfront Museum may also be stockists.
Payment
At the time of writing it is hoped that a card reader may be in use, but, to be safe, please bring cash, or, that old fashioned item, a cheque-book.