I've been trying to tie up the plan in the Royal Commission on Ancient and Historical Monuments in Wales' inventory with what's on old maps on https://places.library.wales/ and https://maps.nls.uk/os/ (another amazing resource and although it's the National Library of Scotland it covers the whole of Britain) with what is there now – without much success, but the nettles and brambles are really a bit high for serious surveying. I've made a rough sketch from the RCAHMW plan and reorientated it so north is at the top.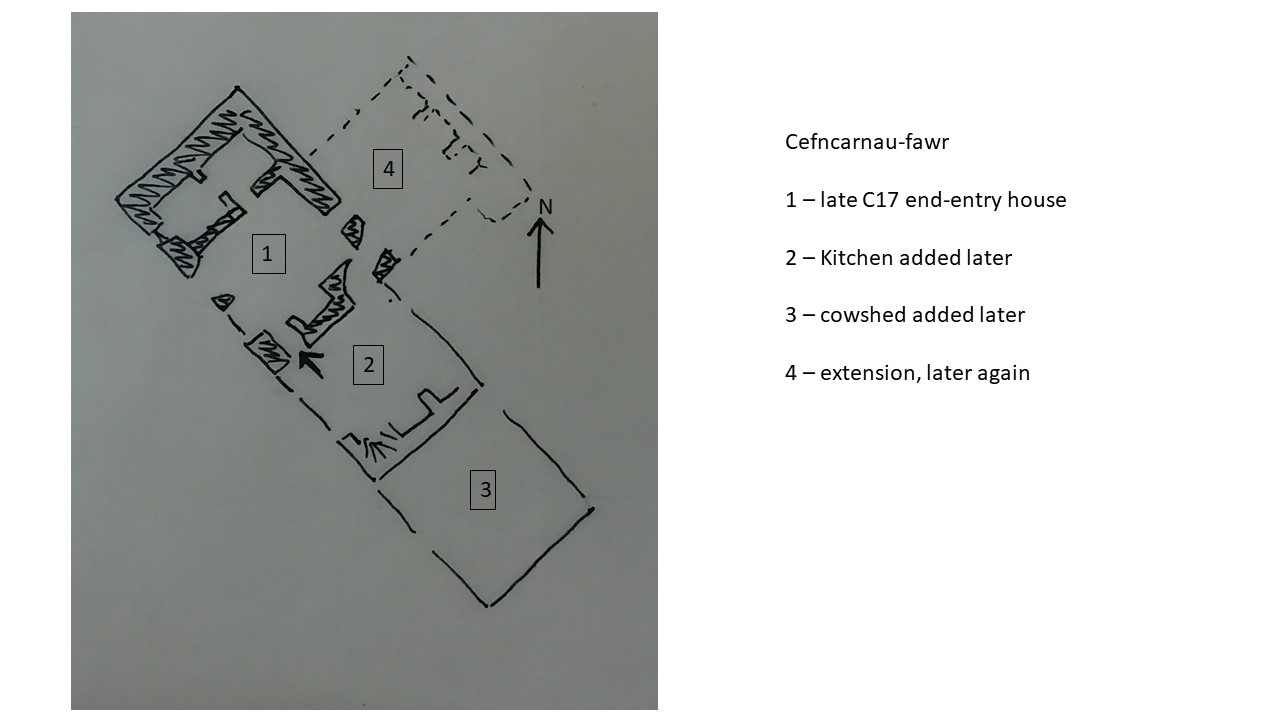 This is clearly the kitchen (2 on the plan)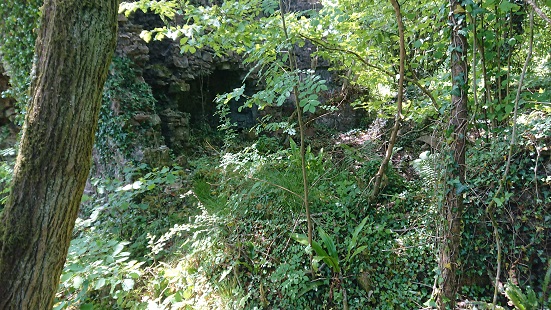 with the big fireplace and bread oven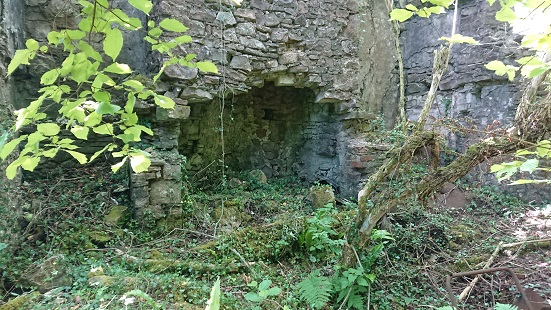 but this looks too small for their plan of the cowshed (3 on the plan)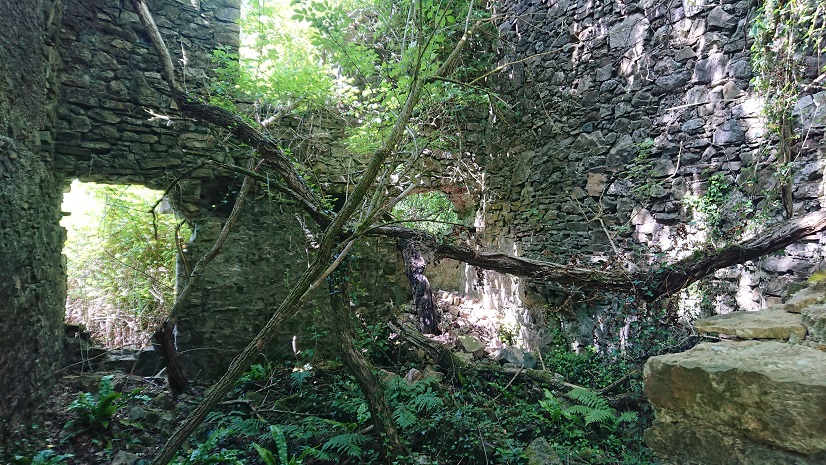 and I couldn't get anywhere near the older part of the house.
This is how the farm appears on the tithe plan in 1840, based on the tithe plan on https://places.library.wales/ .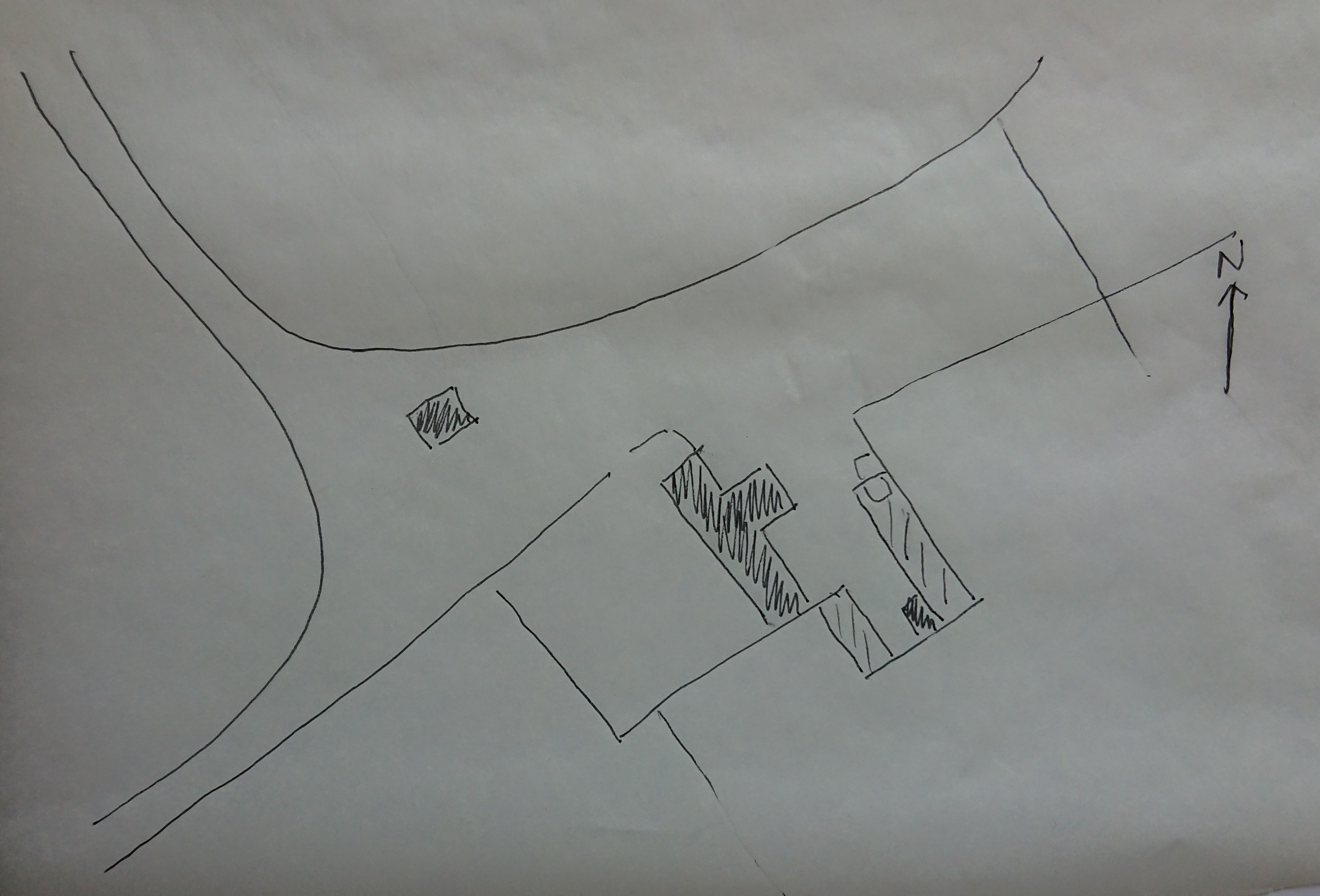 The darker hatching seems to be accommodation, lighter hatching is presumably outbuildings. No barn, nothing across the lane – and what is that little building NW of the farm house?
The first edition OS is about 1875 and is on the NLS site.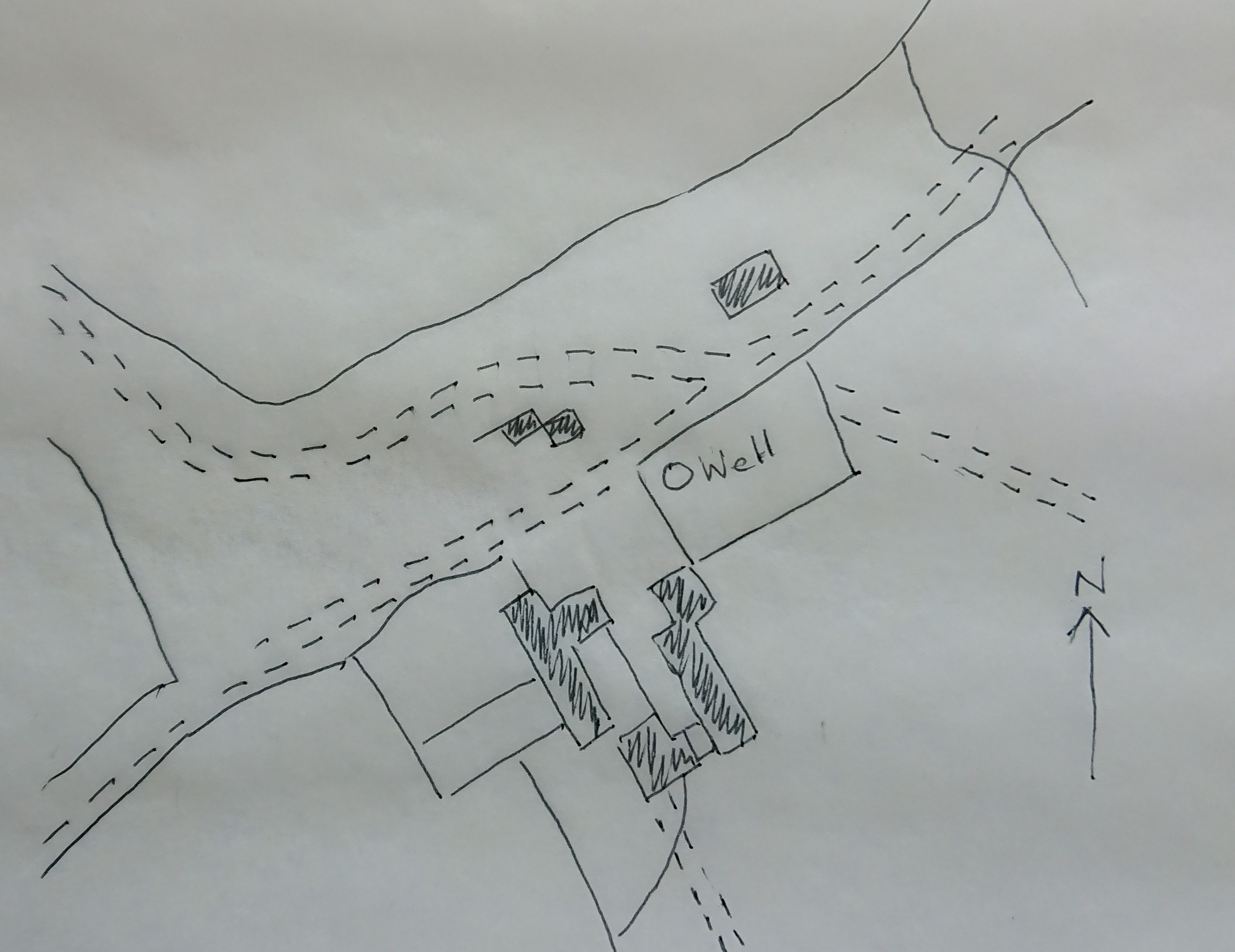 This doesn't differentiate between accommodation and outbuildings. The little building NW of the farmhouse has gone but there is something just across the lane N of the farmyard and the first of the buildings that are still there on the lane. The present farmer thinks this started as a cowshed – it has the central drainage channel and racks for the cows to be fed while they are milked – though the buildings may subsequently have been reworked for horses. There are some differences in the farmyard buildings but the really interesting thing is that the well is marked near the lane and just east of the farm, in the small enclosure which now lies between the farm house and the ruined barn.
The 2nd edition OS is surveyed 1898 and this is the map on the NLW site.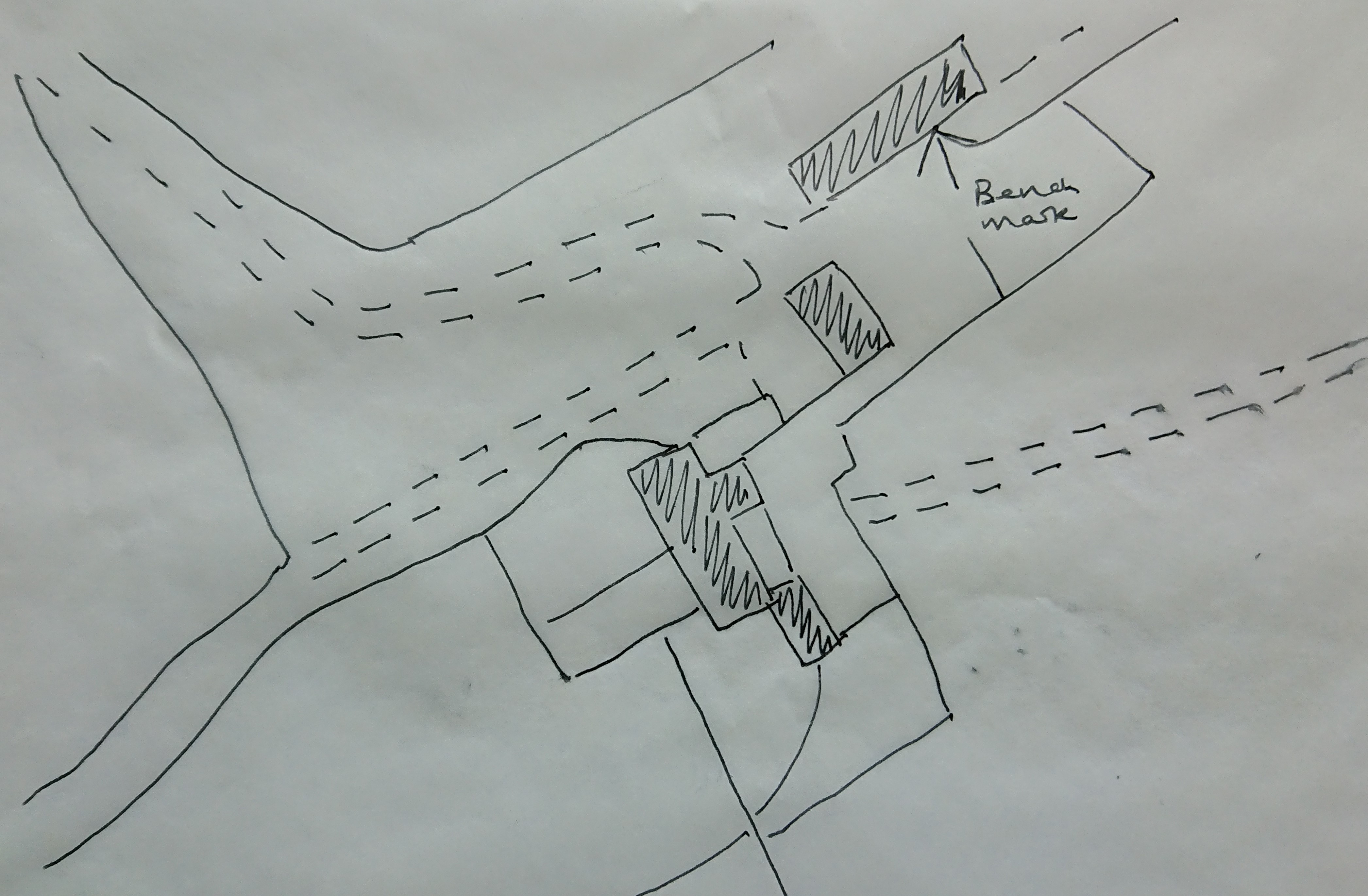 Quite a lot of changes. The cottage (or whatever it is) above the lane has gone and the cowshed/stable range above the lane is all there. A benchmark on one of the buildings – wonder if it's still there. The buildings on the E of the farmyard have gone, to be replaced by the big barn whose ruins are still prominent.
The 3rd edition OS is on the NLS site and resurveyed 1915. No real change – one wonders if they really resurveyed it.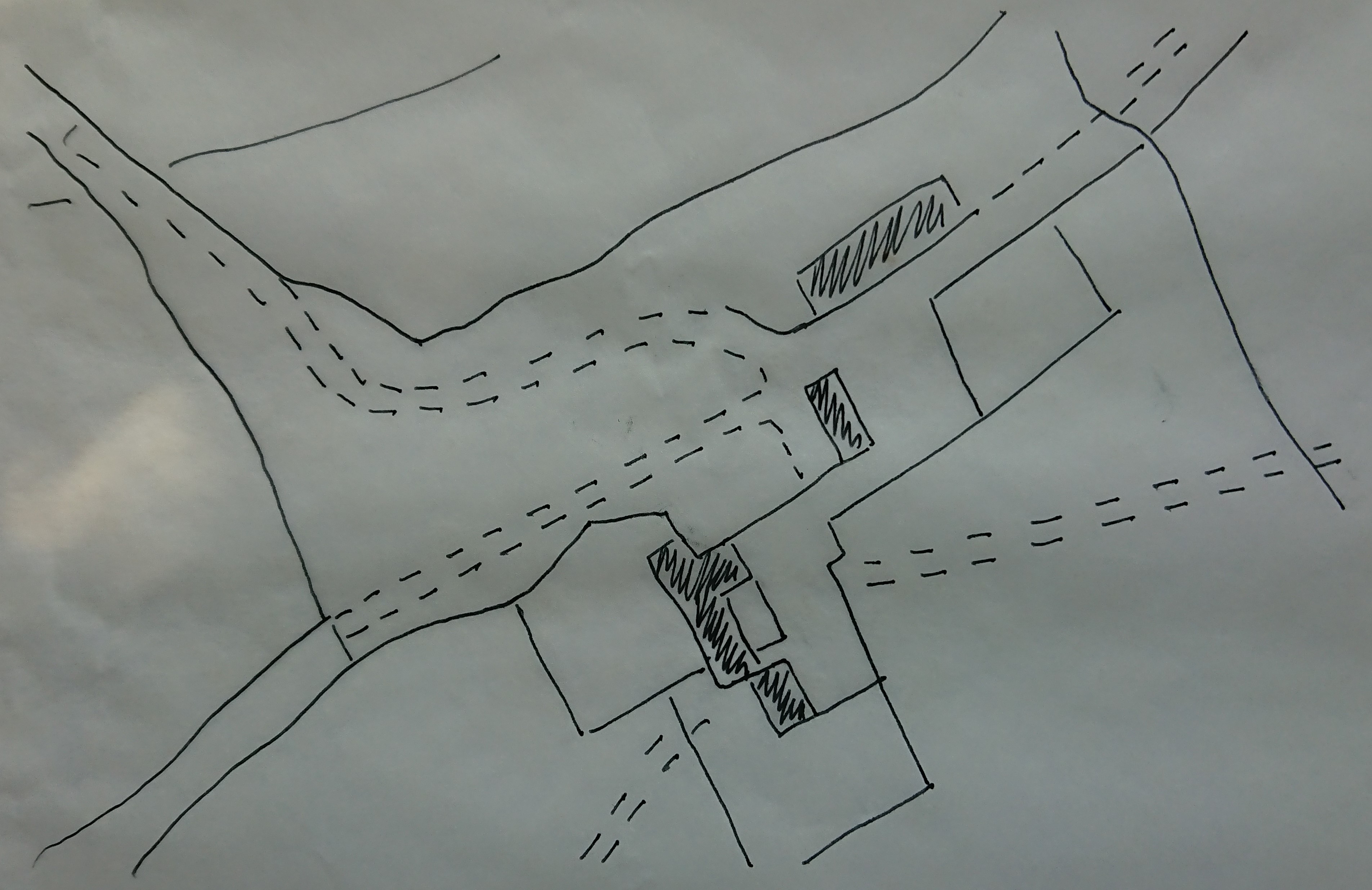 There are sale particulars in the Glamorgan Archive. We need a visit once the lockdown has eased sufficiently – and another site visit in the winter, when the brambles and nettles have died down.
Postscript: here's the bench mark, below the door of the middle stable