Now that Gwen the cockapoo puppy is a little older (and a little more ready to come back when called), we are doing longer walks. Today, we went up Craig yr Allt, and I was reminded that I never did look for details of this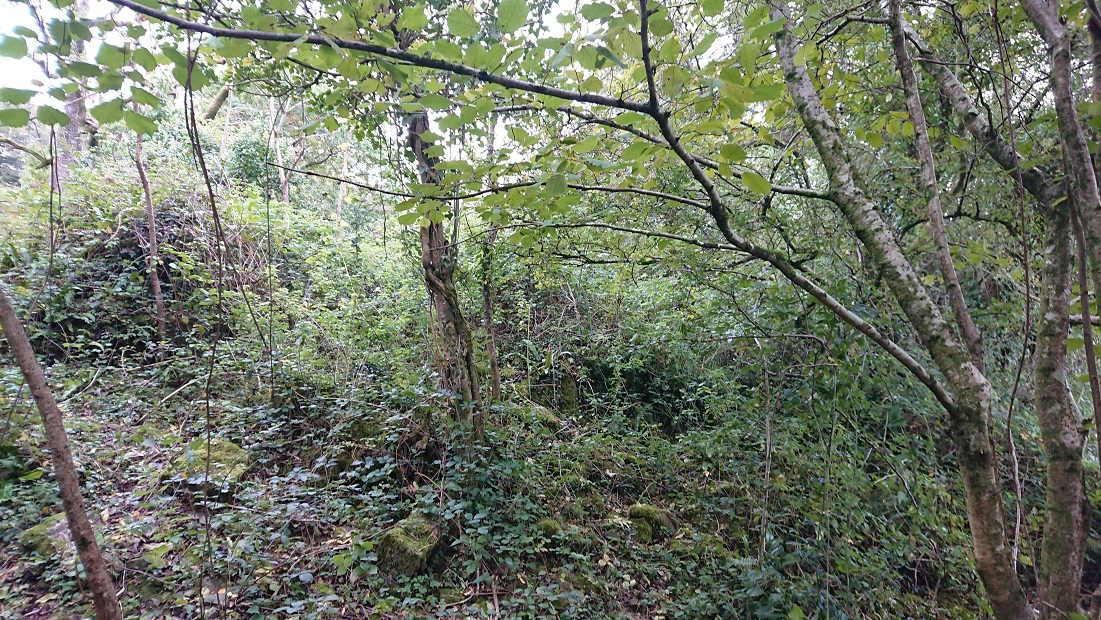 at about OS Grid Ref: ST 12516 84638. From the path just a heap of tumbled stone,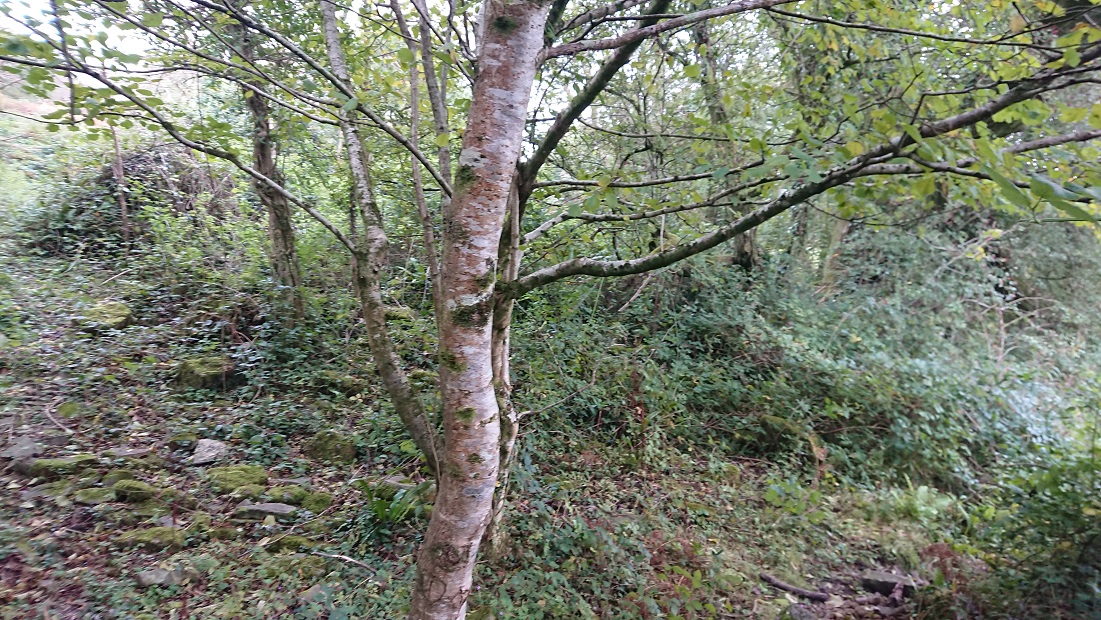 but up in the brambles there is a bit more of a wall.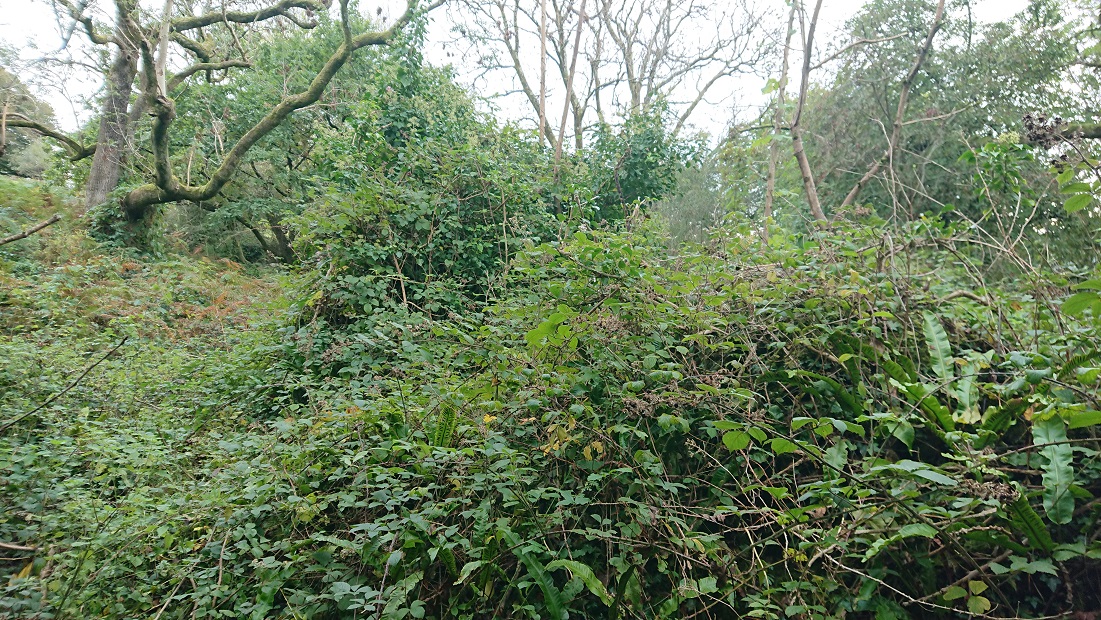 And a little further up the slope, at about ST 12575 84628
a little more stonework.
They took some finding on the wonderful https://places.library.wales but they are there – it's just tricky overlaying the 2nd edition OS and the tithe plan on the modern satellite image. Also the tithe plan shows the 2 buildings much closer together that they actually are.
In 1839, the date of the tithe plan for the huge parish of Eglwysilan, they were part of a farm called Tir Craig yr Allt. They may originally have been part of another smaller farm which had been absorbed into Tir Craig yr Allt. The lower of the two buildings isn't named but is in a small field called Cae dan y ty, the field below the house. The upper building is in a field called Cae ysgubor, Barn field. T he main farmhouse of Tir Craig yr Allt (described as 'Homestead' on the tithe plan) was at about ST 13787 84873. This added to the confusion: between the tithe plan and the 1st edition OS map (surveyed 1875), the farmhouse had been rebuilt a little further down the valley of the Nant Brynau. This farm, now just called Craig yr Allt, is still there: it is a large farm and riding stables. Alas, the site of the 'Homestead' isn't accessible: it's in the woods between the drive to Craig yr Allt and the Nant Brynau, so we can't check if anything remains of the old farmhouse.
In 1840, Tir Craig yr Allt was the property of Robert Henry Clive, part of what would become the Plymouth estate, and the tenant was Mary Williams. It was a substantial farm of nearly 130 acres, though just over 50 a. of that was rough mountain grazing.
A little further up the lane (I need to go back and check the grid reference) was this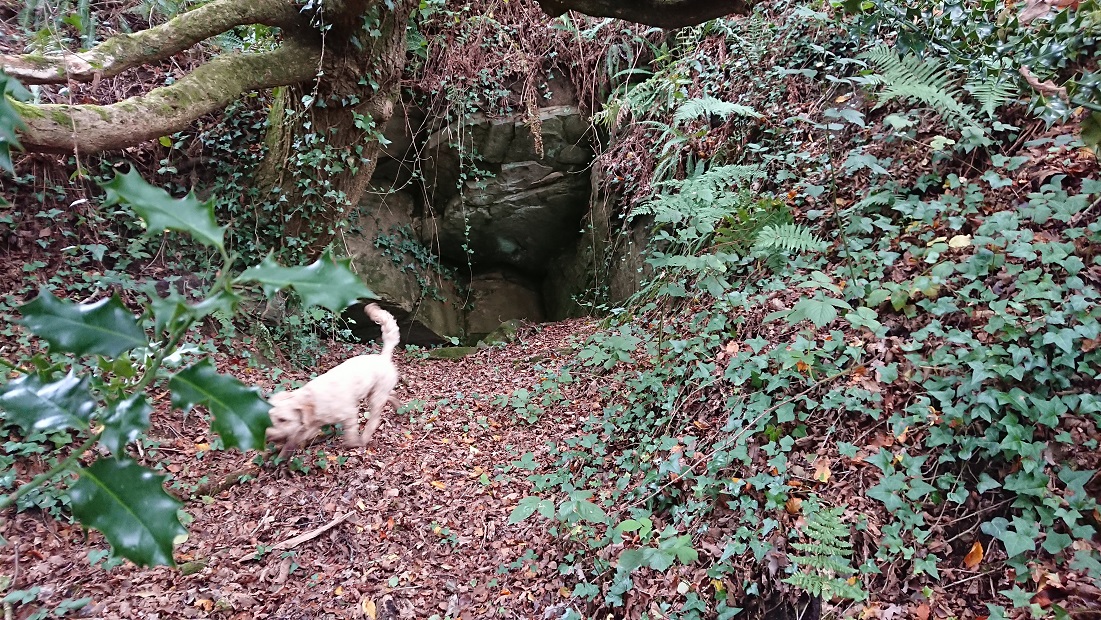 (Gwen for scale) – presumably an old adit. Coal levels and quarries are marked along the lane on the 2nd edition OS, and both lead and iron were found in the area.