I have to admit that, before I went down this particular research wormhole, I hadn't thought much about portable fonts. I knew about the Reformation debates about fonts and baptism, and the move away from chunky stone fonts near the church door to plain basins in full view of the congregation. But being more of a medievalist, I had assumed that 'traditional stone font' meant something hefty and virtually immovable.
Then I was sent photos of this (photos are © Peter Brooks)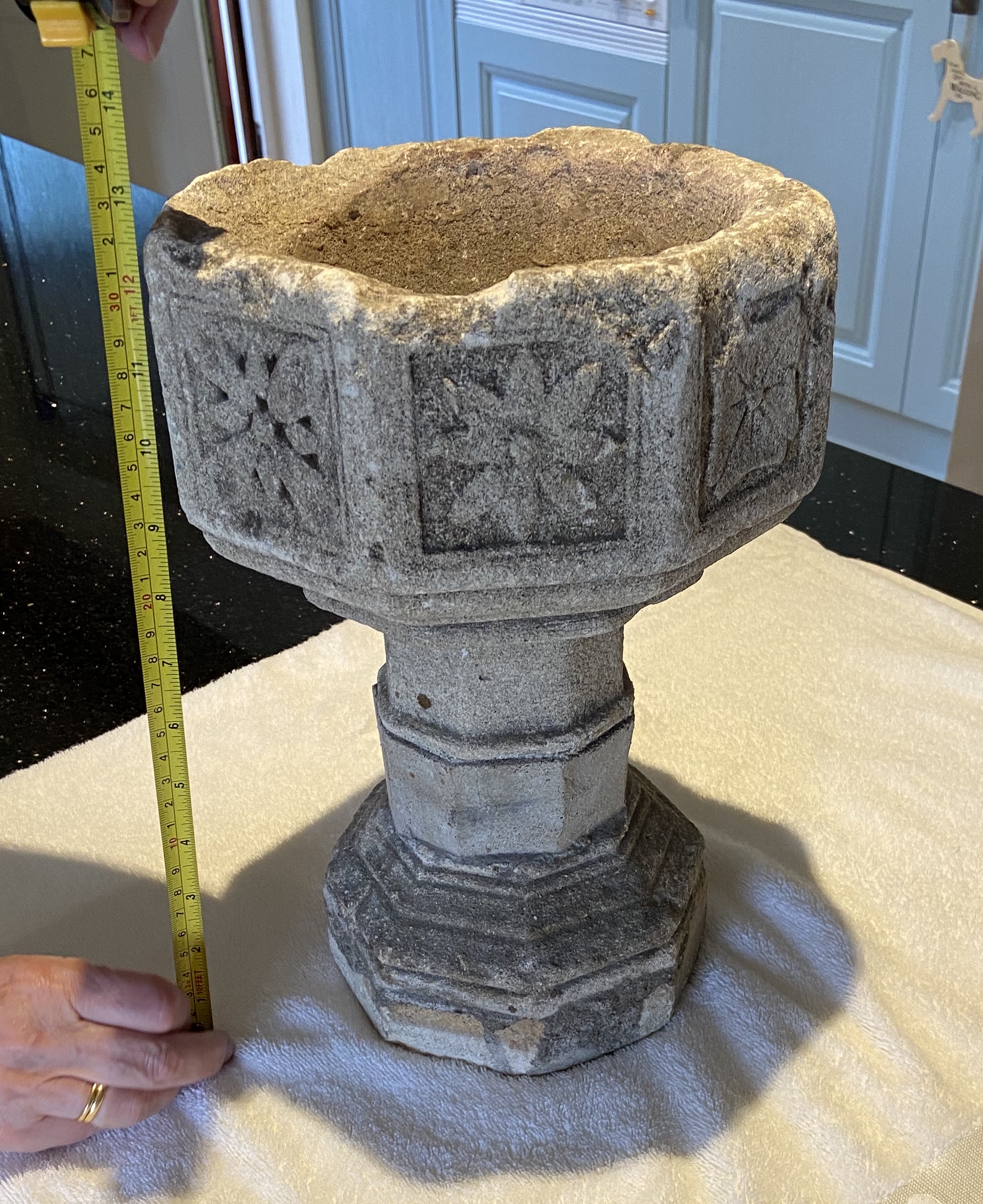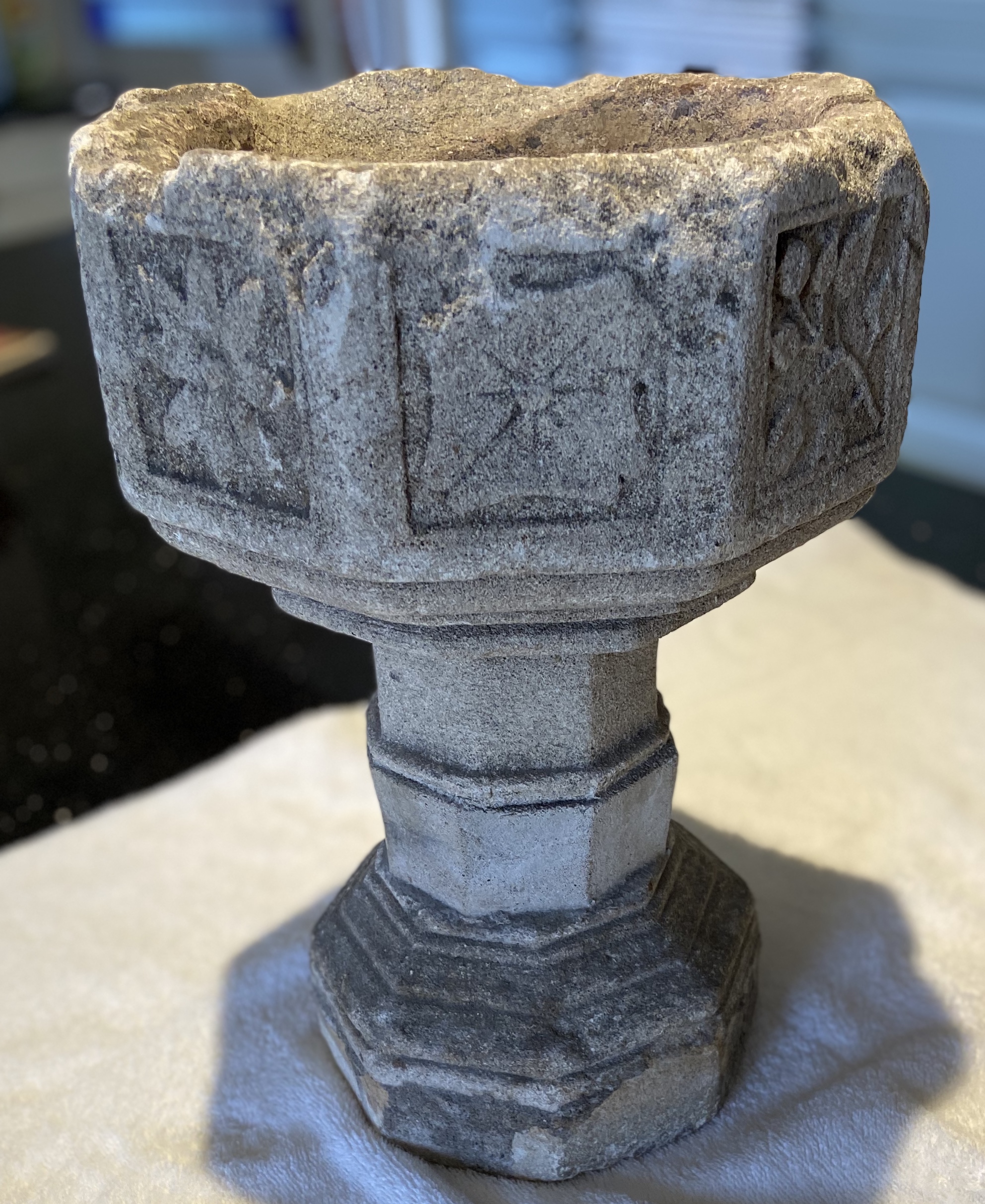 looking for all the world like a traditional stone font but only about twelve inches high. It was found about fifty years ago at Penrhys in the Rhondda, during the building of the housing estate there. When found, it was broken in two, and the finders repaired it with cement and a metal pin. Before the estate was built, the hillside was home to a couple of small farms – but during the later Middle Ages it had been one of the holiest places in Wales. A famous carving of the Virgin and Child, believed to have arrived there by a miracle, made it a focus for pilgrimage, and the Welsh poets wrote in its praise.
Quite by coincidence, at about the same time, this popped up on Twitter – https://twitter.com/fotofacade/status/1527166580467150848
And a reference to a blog post https://church-travellers.eu/abbey-church-waltham-abbey-essex/ – scroll down for a photo of the same miniature font
And a lengthy discussion on Twitter – follow the threads from the original posting. People recalled baptisms using the Waltham miniature font and posted a photo of a completely different design which (according to family tradition) could have come from the Holy Land.
Penrhys was a grange chapel of the Cistercian monks of Llantarnam. The land should initially have been farmed by lay brothers of the order, but we know the grange had tenants by the early 14th century. Technically, I suppose, they should have gone to the parish church in Llanwynno for things like baptisms – Llanwynno is 2.75 km from Penrhys as the crow flies, but across a steep-sided valley. Cistercian chapels for tenants do seem to have had facilities for baptisms: the abbey church at Margam, for instance, has three medieval fonts, all presumably from outlying chapelries. They are all full size, and one would expect a permanent font in a grange chapel to be full size, but there could have been small portable fonts for emergency baptisms in remote farmsteads.
Somehow, though, although the miniature font was battered and worn, it did not look medieval. It has been taken to the National Museum in Cardiff and both the small finds officer and the Head of Collections and Research (History and Archaeology thought 'maybe Victorian'. The Twitter discussion included a link to this https://churchantiques.com/product/small-vintage-gothic-bisque-china-baptismal-church-table-font/ – which as it's china is presumably Victorian.
My first instinct was to think Catholic, or maybe High Anglican – that Victorian revival of ritualism and focus on the sacraments. However, a response to the original Twitter posting said that miniature fonts were common in Nonconformist chapels. Further enquiry suggested they are still used in the Methodist tradition. I am planning to seek out a few examples of these.
However, it is possible that the Penrhys find had no liturgical use. The team at the Baptisteria Sacra project https://bsi.dhn.utoronto.ca/main/project-information/ pointed to the difficulties of taking baptism in a miniature font. Would it not be better to have closed weatherproof containers for consecrated water, salt and oil? They also sent me these photos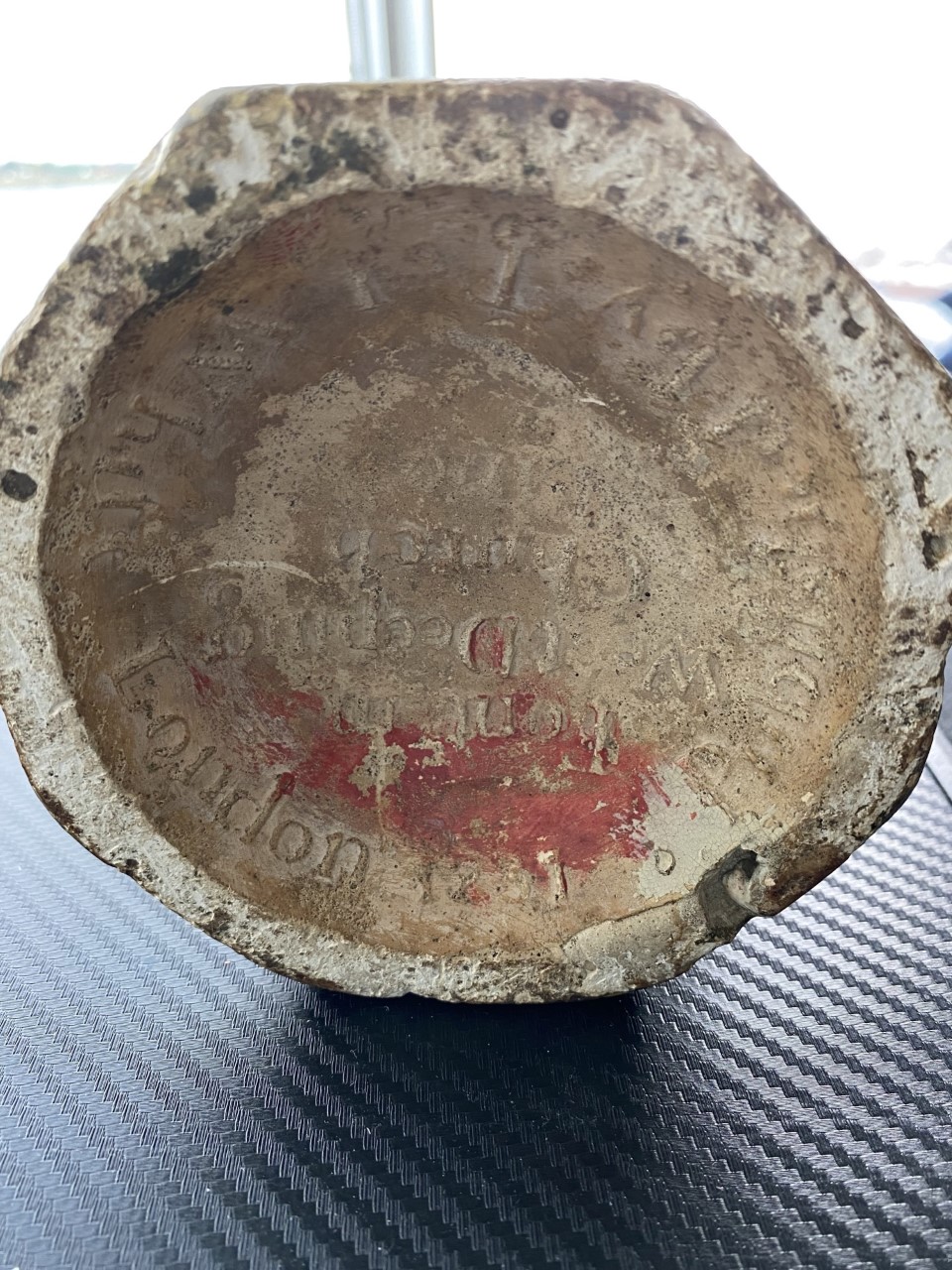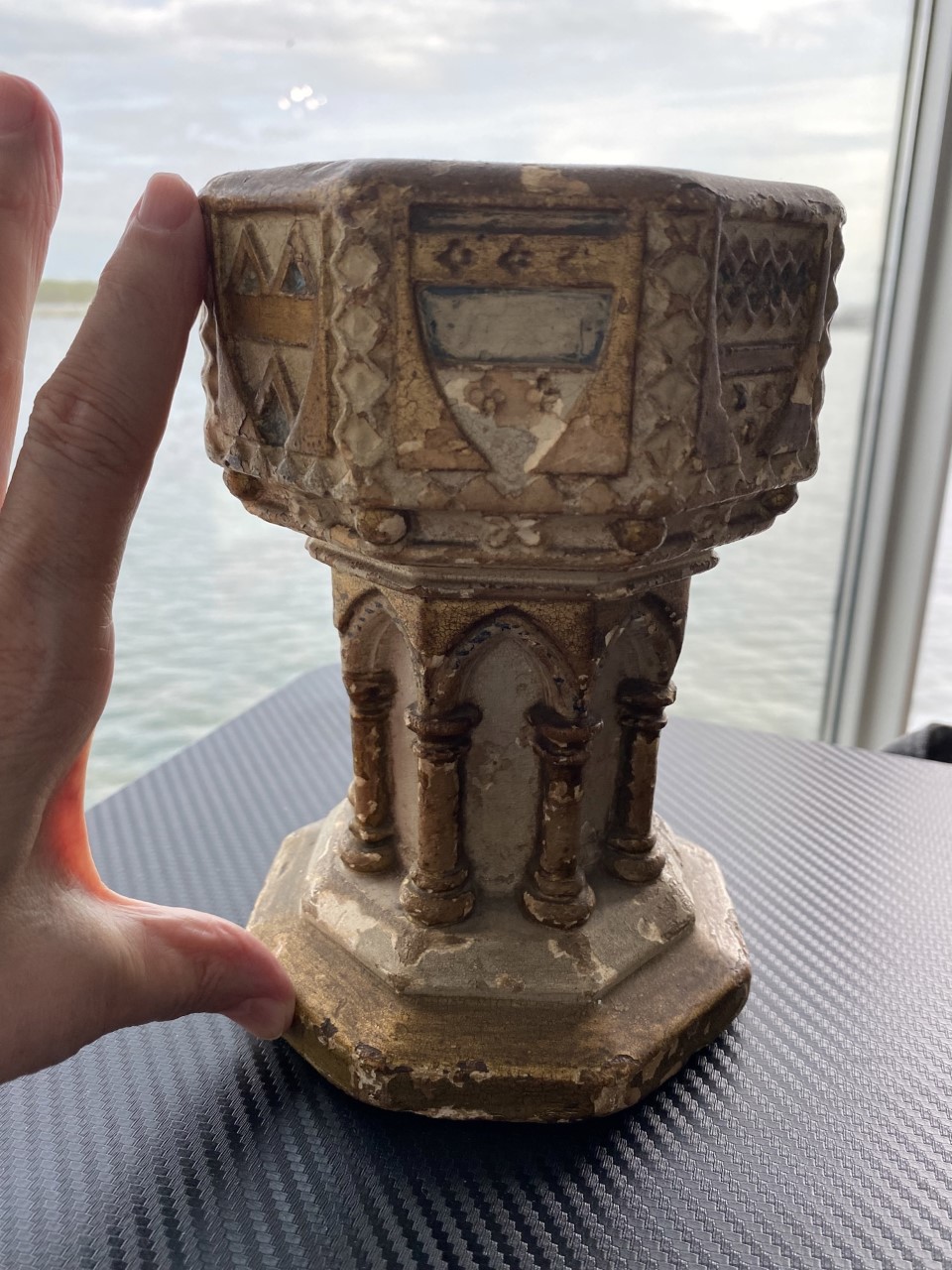 – a rough earthenware replica font, 7" tall, quite elaborate in design and lavishly decorated. The base reads 'Font in West Deeping Church Linc. Published by T I WHITE LONDON 1831'. This would not have been much use as a water container and seems to have been produced commercially as an ornament.
The Penrhys font, though, is stone and could have held water. But wherever it came from, whenever it was made, and whatever it was used for, how did it end up broken on a remote Welsh hillside?