I have been sent this update on the project. The tour is being developed by the Carmarthenshire Antiquarian Society to raise awareness of the roles of Carmarthenshire people in the legacy left by Griffith Jones, especially Peter Williams, as this is the tercentenary year of his birth.
The Carmarthenshire Enlightenment Project: TOUR (and local Trails)
General tour: The proposed tour will use HistoryPoints QR plaques for on-site information and linkages between sites. It tells the story of the significant multiple legacies left by Rev Griffith Jones, Llanddowror. They include:
development of Welsh literacy across all of Wales through Circulating Charity Schools supported and continued by Madam Bevan, with her continuing legacy and his publications;
his prolific writing plus promotion of Welsh Bibles, which indirectly supported Carmarthen's printing industry;
his fame as a preacher and embrace of all-comers that inspired so many others to follow his example, such as Peter Williams; William Williams, Pantycelyn, Thomas Charles, David Charles – all from Carmarthenshire;
the unintentional support of the eventual formation of the (Calvinistic) Methodist Church;
and, through all of those, the resurgence of the Welsh language in the C18 and C19.
Trails: At some of the locations (Llanddowror, Laugharne, St Clears and Carmarthen) there would also be linkage to a local trail, which will also have HistoryPoints QR plaques to guide the walker, and for qseveral also link to the Wales Coast Path.
Currently there are seven locations planned, as highlighted on the map, with the possible addition of Derllys.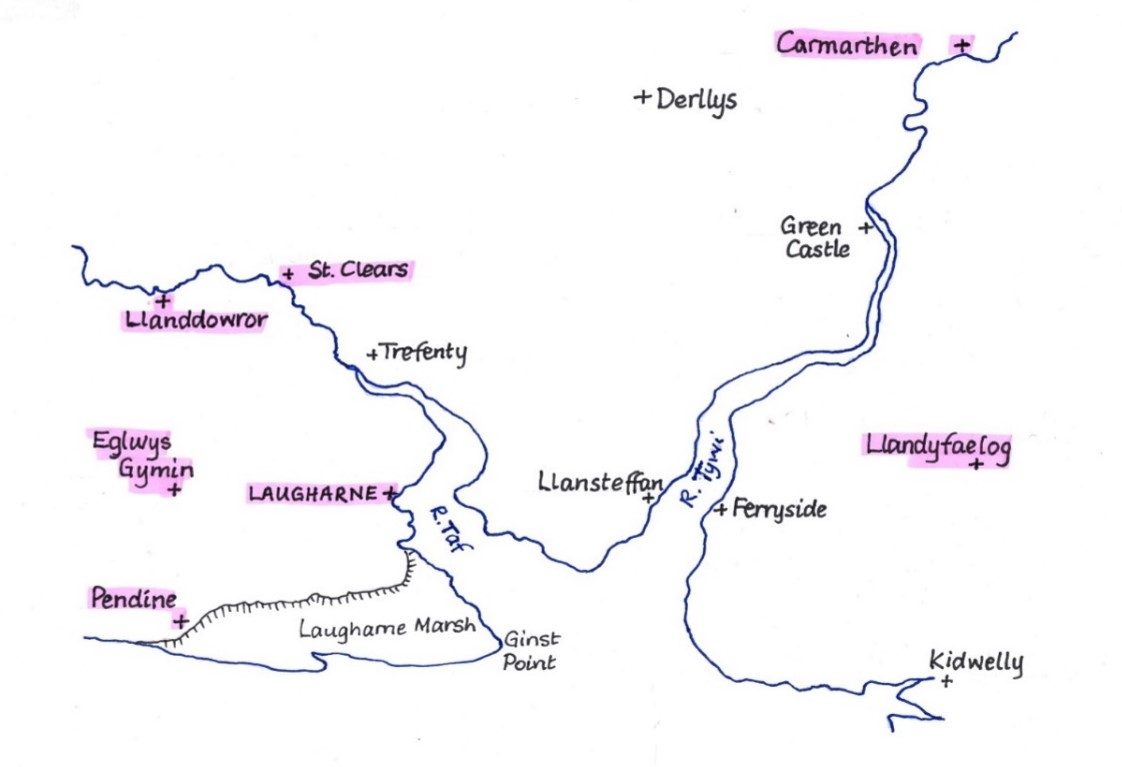 But it could also be possible to extend further at any point in the future e.g. to include the County Museum at Abergwili and Llandovery sites (William Williams Chapel, and Pantycelyn) if they so wish.
Promotion: Each QR can be linked to further supporting information e.g. on C.A.S. website e.g. to Antiquary articles on GJ, etc. The tour will be promoted on the following websites: Carmarthenshire Antiquarian Society; HistoryPoints; Discover Carmarthenshire; the National Churches Trust as well as the local council websites and possibly Celtic Routes. An official launch is planned for the 23/24th September 2023 as part of CADW's Open Doors with events at the locations, and an exhibition is planned for November in Carmarthen town centre. A touring exhibition and booklet are also planned, which will help promote awareness.
In addition in, autumn 2024 the County Museum will hold their own exhibition on the same theme.
The proposed route, the sites, an outline of the relevant content and trail links are all shown in the table:
SITES, in route sequence
CONTENT
PROGRESS

(February, 2023)

TRAIL
FOCUS OF TRAIL
LINK TO WALES COAST PATH LINK
Llanddowror
Griffith Jones' overall legacy
QRs funding applied for
Yes (funding ditto) plus pos. Youtube video.
Training CC School teachers
No
Eglwys Gymin
Church history Peter Williams and John Evans
QR in place
No
–
No
Pendine Peter Williams Memorial Chapel
Peter Williams' early life and achievements
Display panel + QR in place
No
–
Yes – directly on the WCP
Laugharne St Martins church
Church history and Griffith Jones preaching fame
QR in place
Yes – plus pos. Youtube video.
Link to Madam Bevan's house site with blue plaques and display panel, in place plus school + port QRs
Yes – via the trail
Y Gât, St Clears – &/or Pentre Farm, adjacent
Circulating Charity Schools; Thos & Dd Charles
Funding applied for from Town Council
? Yes
Story of the Circulating Charity Schools
Yes – if trail(s) can be approved
?Derllys
John Vaughan and Madam Bevan charity
Display Panel in place – QR needed, if agreed
No
–
No
Heol Dŵr Chapel, Water Street
Peter Williams' development of chapel, printing of bible 1770 + rise of Methodism
Funding applied for
Yes – funding applied for
Port, Academy, Grammar School. St Peters, Printing trade, Peter Williams
Yes – via the trail
Llandyfaelog St Maelog church and Village
Peter Williams' grave, former home
Two QRs agreed inc funding
No
No